Latina (April '98)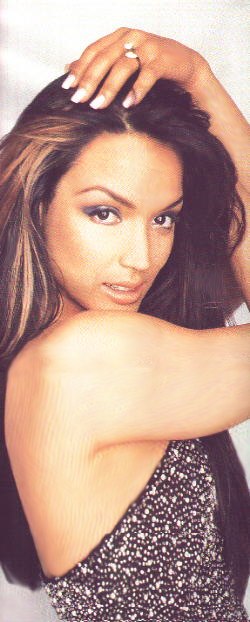 At the age of 17, Mayte Garcia-Nelson --a stunning sinewy beauty --had already achieved her dream, to dance professionally. She'd wanted to be a prima ballerina since age three and managed, through disciplined training, to achieve that with a dance company in Germany, where her military father had been stationed since she was 12.
She'd also wanted to be a belly dancer, a skill learned from her mother. Garcia-Nelson proved so adept with the ancient rite's subtle rhythms, that by 16 she was headlining with a 25-piece orchestra in Cairo, Egypt --the very cradle of belly dancing.
She now fulfills her dancing dreams in collaboration with her husband,
(The Artist Formerly Known As Prince.)
In their latest project, she directed and he wrote the score for a haunting ballet, Around The World In A Day.
"It's a mix of ballet, modern dance, jazz and hip-hop," says Garcia-Nelson, who plans to travel with the ballet this spring. "Some of the music we used in our wedding ceremony. People just cry because it's so beautiful."
For those who know
, though, the idea of him truly collaborating with anybody seems far-fetched. Arguably one of the most innovative pop artists of the century, usually writes, plays, and sings everything himself.
But according to Garcia-Nelson, the popster's a puppy when it comes to working with her. "We have respect for each other's art," Garcia-Nelson says quite seriously. "I understand him, and he understands me. And he defers, he really does. When he came to see the ballet, he was overwhelmed."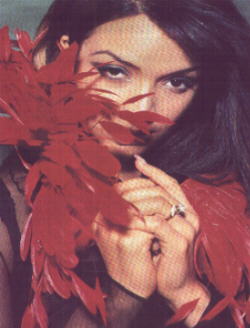 That's not the first time Garcia-Nelson has had that effect on him (or others). According to the story, when he first laid eyes on her--a 16 year-old kid at one of his shows in Germany--
turned to a friend and said: "That's the girl I'm gonna marry."
Amazingly, it was her mother who first saw something in the impish musical genius that show thought might fit with her daughter's dark intensity. So she encouraged her daughter to give him a videotape of her work. Two weeks later, tape in hand, Garcia-Nelson was at another
concert in Germany. Her father chatted up the New Power Generation dancers afterward and got them to take the video backstage.

, as it turned out, was a most unusual pen pal--not at all like the sex-obsessed musical messiah of his CDs and videos. "He was really very respectful," she says. "it was all about our work," They ended up keeping in touch for two years.
When she was about to turn 18, he asked her to dance to his song "Thunder." A little bit later she was asked to join the New Power Generation dancers. A plane ticket to Minneapolis, his Purple Highness' hometown, turned up in her mailbox. She showed up, and stayed. "I knew I loved him right away; the instant that I met him, he was my best friend," she says.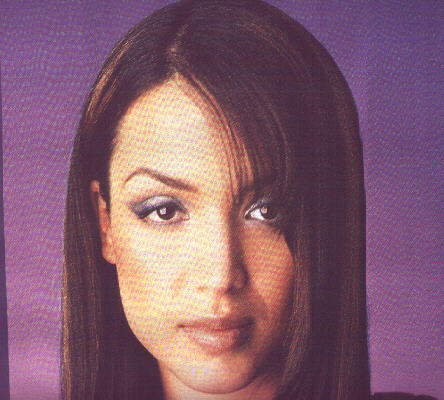 But the relationship remained chaste for years until, finally, he told her how he felt one day. "It just slowly happened. We really think of each other as soul mates." They married on Valentine's Day in 1996, when she was 22.
Under
's tender tutelage, she'd already embarked on her own music career with 1994's Child of the Sun, a full-length CD featuring 12
-penned songs. It's an odd mix of chunky rhythms a la Purple One with a dash of Latina cha-cha on top.
"I love Latin music. I listen to salsa all the time, especially when I'm in Puerto Rico," says Garcia-Nelson, who was born in Puerto Rico but spent a great deal of time in Germany and often traveled to the Middle East. "He [she doesn't use her husband's unpronounceable hieroglyph in speech but refers to him by singular pronouns that sound capitalized] doesn't dance salsa, though, so we definitely have to do something about that."
Paramount for her pride about being Latina. "Most people don't know what ethnicity I am when they meet me," she says. Another important issue for her is creating a better future for children. To that end, she and her husband have established the Love 4 One Another Foundation, and they plan to build a school/shelter across the street from Paisley Park, their huge business complex in Minneapolis.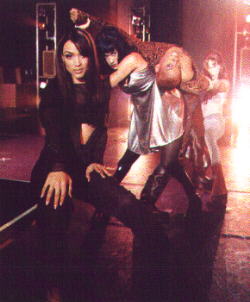 "I really want to help the Latino community, I want to bring hope to young people," Garcia-Nelson says. "We want to fund education, fly organic food to the poor people, clothe children. All along we also want to try to project an image that will finally give self-confidence to those children."
But for all her readiness to talk about the need to get involved children's issues, Garcia-Nelson won't discuss her own--in spite of news reports last year that she and
lost their first child to a rare birth defect.
"We need to keep some things to ourselves," she says. "I don't plan to tell people when and if I have a child. I'll wait until the child's old enough to say whether they want to be in the public eye or not."
Right now, she's happy working and enjoying the quite moments that she and
find together. "We have a cat, two doves, fish, and two dogs," she says. "we both have stopped eating meat. I like cooking now for both of us, and I think he's more into family stuff. Sometimes, it's just, hey, let's chill with our dogs. Sometimes, we just look at each other and we see God."
~Chicago Tribune reporter Achy Obejas, for Latina magazine.

3/16/98
[HOME]
[Article 2]